Sweat Lodge
Interested in joining us for a Purification Ceremony aka Sweat Lodge? Great!  We have monthly Sweats at Hummingbird Hill near Sherwood, OR. (click on directions tab)
Everyone is welcome! Potluck always follows.  No reservations needed.
Contact Linda Grass at (503) 625-8048 to find out more about Portland area lodges.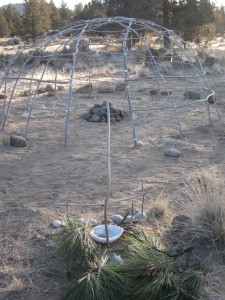 General Information
Sweat Lodges are a time for cleansing, purifying, and connecting to Spirit and the community. The ceremony takes place in a small, covered willow structure, where water is poured onto heated stones to create steam. It is completely dark in the Lodge while the water is being poured.  Sweating in this way purifies our bodies, minds, and spirits.
What to Bring
* A potluck item, as we always feast after praying and purifying.
* A change of clothes, a sweatshirt, and at least one towel.
* A large bottle of water. You will lose a great deal of water during the Sweat, so replenishing yourself afterwards is important.
* A donation of $20 (no one turned away) and a package of tobacco or processed cedar to gift to the water pourer and fire tender.
What to Wear
* Women wear long dresses with cap sleeves, or long skirts with t-shirts. 100% cotton is recommended for Sweats.  This is a tradition of modesty; please be mindful and do not wear tank tops or see-through clothing.
* Men wear long shorts in Lodge and are permitted to be shirtless.
* Please remove all metal: jewelry, watches, glasses, etc.
Important Notes
Please be sure to drink plenty of water and/or electrolytes before the Lodge, as water bottles can not be brought inside with you.
* Be prepared to devote your day to the sweat lodge. From start to finish including the feast at the end, sweats are often an all day event.
* On snowy, icy, and windy days, please check your email the morning of the sweat lodge to make sure it has not been cancelled due to weather.
* We honor women on their moons and ask them to relax at home and spend that time nurturing themselves.
* Sweat Lodges are done in four rounds, each round typically lasting 30 minutes or more. If at any time should you need to leave the Sweat, you may excuse yourself by addressing the water pourer.
* Your suggested donations of $20 go toward wood, facility usage and they enable us to offer these ceremonies.
[add_posts category="sweat_lodge" show=1 h=3 img=true]