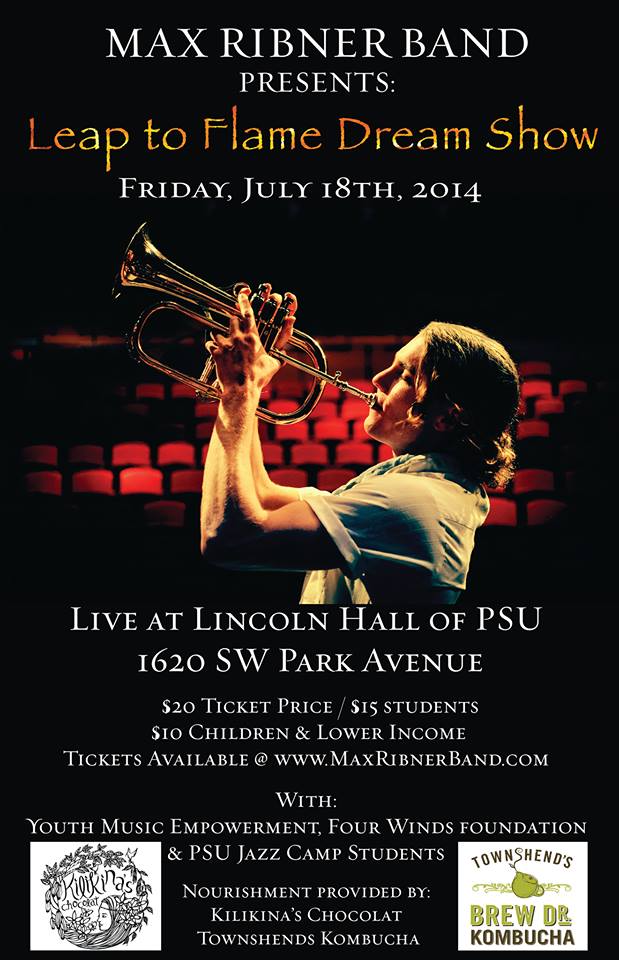 Friday, July 18th from 6pm – 10pm at Lincoln Hall in Portland, OR
Buy your tickets here!
Building on the success of his two unique CD projects, Portland musician & Berklee College of Music graduate, Max Ribner is creating a first-of-its-kind live music & community event called 'Leap to Flame.'
"Leap to Flame is intended to spark change and encourage people to discover their purpose and passion" -Max Ribner.
July 18, 2014 ~ 7 pm downbeat, doors open at 6 pm
Lincoln Hall @ Portland State University
1620 SW Park Avenue Portland, Oregon, 97201
$20 Ticket Price, $15 Students, $10 Lower Income and Children (18 and younger)
This family friendly, health oriented evening of music and encouragement will honor children, honor elders, and honor the arts. Here's the evening's amazing lineup:
1. Max Ribner Band – This 11 piece band offers gospel soul and jazz music deeply rooted in peace, compassion and healing. The band will surely get you dancing and offers a spiritual journey of hope and inspiration. This concert will release "Leap to Flame," the second CD of Max Ribner Band. Featured on this album are 50 of Portland's top musicians with names such as Bibi McGill (Beyoncè) Liv Warfield (Prince) and the soaring vocals of Saeeda Wright.
website: www.maxribnerband.com
2. Youth Music Empowerment – There won't be a dry eye in the crowd, with the inspiring originals written and performed by a choir of empowered children, ages 5 to 15. Max Ribner is the leader and mentor of this ensemble and believes children are our greatest teachers. Through improvising, songwriting and positive health, Max gives these children a sacred outlet for the arts, offering a safe haven for the children. Youth Music Empowerment encourages children to keep their faith alive and to sing it loud, letting their own personal muse shine brightly. This flame radiates not only in their musical education, but in everyday choices of loving actions. This concert will also release "Wolf Pak," the first CD of Youth Music Empowerment.
website: www.facebook.com/YouthMusicEmpower
3. Four Winds Foundation – Featured this evening, elder Sweet Medicine will provide storytelling and Native American wisdom. Throughout the night there will be traditional songs and ceremony, reminding us to carry the ancient simplicity which grounds and uplifts us to remind us who we are and what is most important in life. Sweet Medicine is the spiritual leader of Four Winds Foundation, a collective of individuals dedicated to offering ceremonies, vision quests, rights of passage for youth, sweat lodges, women and men retreats, as well as classes in primitive skills.
website: www.fwfoundation.com
4. Nutritional Nourishment – Max Ribner is offering a healthy alternative through music. It is important to feel good about ourselves internally and externally so we can become more clear with who we are and what our visions are. Thus, offered at intermission will be quality Kombucha provided by Townshend's Tea Company. Also available will be handcrafted chocolat delights provided by Kilikina's. Each batch of chocolat is created with various combinations of organic and raw Ecuadorian cacao, superfoods, medicinal herbs, spices and essential oils.
websites: www.brewdrkombucha.com
www.kilikinas.com
Long Term Vision: Max's long term vision is to take this production and travel to areas in need of healing, such as rehabilitation centers, jails and troubled youth centers. This production is the pure example to spark positive change in the world leaving a beautiful essence behind.